On this page we will keep you in the know about what's going on at our Wellness Center and will offer more information about living a healthy life!
Virginia Garcia strives to bring practical wellness into the daily lives of the communities we serve.  Being healthy isn't just about eating the right food or getting enough exercise. It involves every part of a person. Physical and mental. At Virginia Garcia we teach our patients not only how to be healthy, but how to stay healthy.
30 minutes of exercise a day is recommended to maintain optimal health.
8 cups of water a day are recommended.
8 hours of sleep a night help us to stay energized and focused.
Lots of veggies make our bodies happy!
Cornelius Wellness Center
The Cornelius Wellness Center is our flagship clinic and illustrates the importance of a healthy lifestyle as well as learning and activities that enhance and emphasize the medical care we provide. The Wellness Center includes a teaching kitchen, a nutritious community garden, exercise classes and youth programs—all of which open the door to a healthier, brighter future for our community.
The Cornelius Wellness Center offers events and activities for all community members throughout the year. Check out the Cornelius Wellness Center Calendar February 2019 for a list of what's coming up next.
Beaverton Wellness Center
Our new Beaverton Wellness Center facility is designed to promote wellness and includes a commercial teaching kitchen as well  space for our group exercise classes. Check out the  for a list of what's coming up next.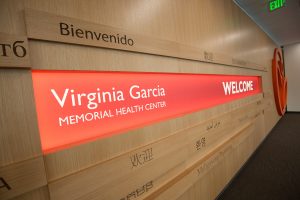 HEALTHY RECIPES
These recipes brought to you by Virginia Garcia's Registered Dietitian, Valeria Mallett.