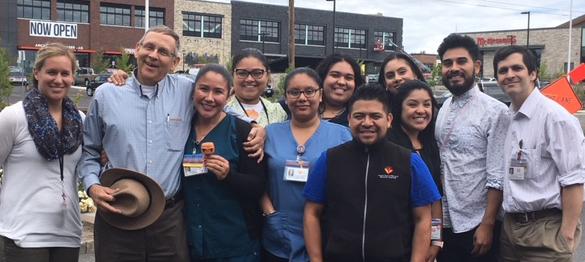 At Virginia Garcia, we are well aware of the connections between oral health care and primary care: a number of our clinics are co-located and we know that providers would refer patients to each other.
It wasn't, however, happening regularly across VG or being documented, and there was no follow up with the patients.
Research demonstrates a direct connection between good oral health and overall health, especially in controlling diabetes. Combine that with a national call to action to integrate oral health into primary care, and it made perfect sense for VG to make medical and dental integration a priority.
"More people access primary care than dental as a point of contact," said Daniel Ornelas, VG dental program manager. "Patients will listen to their primary care provider. If the provider sees something and recommends the patient talks to dentist, they've set something in motion to follow through with a referral."
Dental and medical integration is one of our Strategic Initiatives. Our first priority will be to focus on at risk populations including pregnant women, children, and diabetics. The goal is to provide seamless communication between any team member engaged in patient care.  In addition, we will be working with OCHIN to create tools to enhance our ability to close care gaps across departments.  Funded by a grant from CareOregon, integration ought to help us meet our diabetes metric, as well as provide our patients better care.
We officially began integrating seven months ago with a pilot referral project by Team 4 at the Beaverton Clinic, funded by Oregon Primary Care Association. The project created a screening workflow for diabetic patients with A1c levels greater than 9 –considered uncontrolled diabetes — to refer them to a dentist. Dental periodontal treatment has shown reduction in A1c levels long term.
Team 4 found a way to capitalize on what they were already doing to scrub charts. They flagged patients with uncontrolled diabetes, gave them short questionnaires, verified their dental insurance carrier, and used a dot phrase in the record for data tracking. The provider encouraged the patient to visit the dentist and approved the referral, prompting a notification to be sent to Beaverton Dental. The dental team contacted the patient and made an appointment.
The results exceeded all expectations for 22 identified patients. The outcome for number of patients with uncontrolled diabetes screened for a dental visit was 181 percent of goal and the number who were referred for dental treatment was 142 percent of goal. The missing piece, however, was determining the health benefits for the patients who received dental treatment, which was not part of the program.
Now, McMinnville dental and medical staff are taking on a new integration pilot to focus on uncontrolled diabetic patients, based on the work initially done by Team 4. This pilot will track the health of diabetic patients to determine if the referrals and dental treatment are improving their blood/glucose levels.
Eventually, dental/medical integration will expand to all VG clinics and focus on additional at-risk groups (children and pregnant women) to identify and eliminate gaps in their health care, As part of that plan and to increase access to dental care, VG will embed an expanded practice dental hygienist at the Women's Clinic for oral health assessments, screenings, treatment and referrals to medical and/or additional dental services. The hygienist will also become part of the diabetes management team, helping to identify areas in which oral health messaging could be incorporated, and, eventually, embedded in a primary care team seeing diabetic patients.
"This project has the potential to improve communication between medical and dental teams across VG," said Conchita Lovato, integration project manager. "Working together, we can vastly improve the services for our patients as well as their health and meet our metrics."