The Grape Adventure 2017
July 22, 2017
SAVE THE DATE
Get this date on your calendar and stay tuned for more information.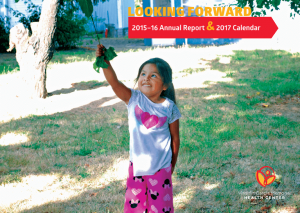 2016 Annual Report and Calendar
9th ANNUAL HEALTH CARE SYMPOSIUM DRAWS ATTENTION TO HEALTH CARE ISSUES CONCERNING WOMEN & CHILDREN IN OREGON Hillsboro, OR --   The most recent attempt by Congress to repeal the Affordable Care Act (ACA) may [...]
Virginia Garcia Creates a "Safe Haven" at their Clinics Hillsboro, Ore. – While the Forest Grove City Council hesitates to declare themselves a Sanctuary city, Virginia Garcia Memorial Health Centers is not waiting. Instead, on [...]
Virginia Garcia is a catalyst for change in health care delivery.
The mission of the Virginia Garcia Memorial Health Center is to provide high-quality, comprehensive, and culturally appropriate primary health care to the communities of Washington and Yamhill Counties with a special emphasis on migrant and seasonal farmworkers and others with barriers to receiving healthcare. Read more…
The story has been told a hundred times, but we must never forget where it all started and the people we are here to help. But who are these individuals? 
Read on..
Photos are important to any story so we have provided a few for you to use. Don't see what you need? Let us know and we'll help out if we can!
Each year, the Virginia Garcia Memorial Foundation hosts a health care symposium that brings together health leaders and community members from across the region to address health care challenges, trends and opportunities that affect the lives of Oregonians.
In this moment of political uncertainty and division, our 2017 symposium will gather to focus on the pending decisions that will impact the lives of women and in Oregon.
Join us for what is sure to be an engaging and inspiring discussion about this very important topic.